Super Trashed Lore Drop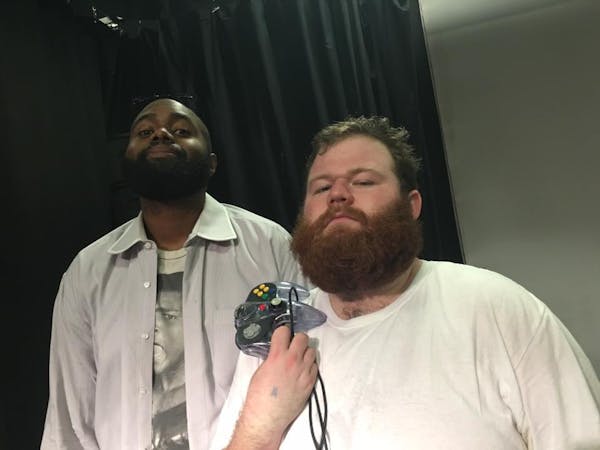 by Jesse and OJ
In the beginning, four people in the late 1980s decided to smoosh. Not together, though. Gross. Two and two. In separate houses. You know what, let's start over.

How do we begin? Such a rich text.

Touchdown!
The points and the score (and the win-loss record (and the division standings)) might as well have been nil. It didn't matter. Those six points were merely an opening act for the greatest show on turf.

On the sidelines, with about ten yards between them, Jesse and OJ would lock eyes and point to each other, arms stretched out, double barreled. Choppy steps in place turned to a staccato approach, perfectly timed, perfectly sequenced. A leap into the air, shoulder-pad breastplate on shoulder-pad breastplate, time frozen in space.

Bullet-time around the scene and most aren't paying attention. Cheerleaders and the marching band are doing their own thing. Students and alumni in the bleachers are reacting to the actual game. The other players, on the sidelines and in the field, are getting appropriately hyped about the score, or are actually focused on the task at hand.

Those in the area who notice this small, frivolous indulgence, smirk at the cohesive disparity of the two young men: different sizes, different upbringing, same enthusiasm for this moment of silliness. A few attending friends and family members, who have grown accustomed to these antics, nudge each other with anticipation with the finger guns come out. The defensive line coach, the tired man in charge of these hooligans, grimaces in disgust (if he ever bothered to take a look towards these boyishly irreverent idiots). God, unpictured, laughs at the cosmic irony of it all.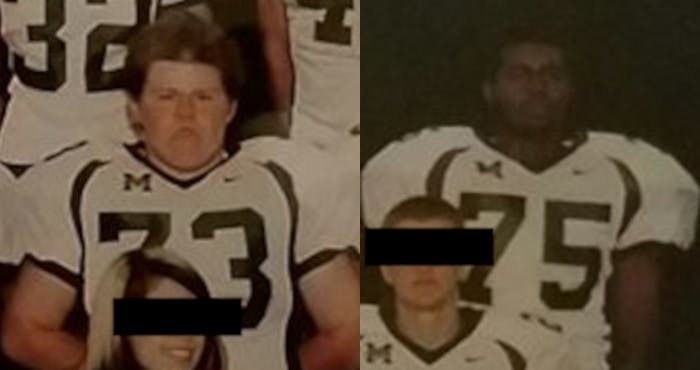 Miramonte High School Varsity Football 2005-06

For all their differences, Jesse and OJ were in sync, in harmony. They were playing a game, but not the one they trained for, paid dues for, sacrificed for, and were expected to take seriously. They made their own playbook, their own rules, their own victory. Did they require being in the vicinity of gridiron glory? Sure. They could have easily jumped at each other in a park or in an abandoned warehouse. The heat of those Friday night lights gave context and clarity to their utter nonsense. But, completely suspended like celestial bodies, of their own accord, the two reached a delicate balance and established a beautiful ritual.

This was the big bang of Super Trashed Bros. These chest bumps would symbolize everything that brought them to this point and everything that would happen after.

Underneath the skin of this ritual was a truth about Jesse and OJ that would become a core tenant of Trashed Bros so many years down the road. Not quite outsiders looking in or insiders looking out. Instead, they built a bubble within the bubble, where their unlikely friendship was forged. A place where they could participate without the commitment. Low effort but earnest engagement is where they thrived.

Jesse and OJ may not have known at the inception of the idea, but this balance is what Trashed Bros would be built on. It is a video game tournament for people who don't want to be competitive; a house party for all the people who never felt quite comfortable in the house parties of their youth. An exclusive space where people can feel included. And rest assured, when those ultra competitive or ultra cool folks do show up, they are treated with the same camaraderie offered to anyone else that is willing to share a drink, share a laugh, and hop on the sticks.

Co-Op
But that wouldn't happen for some for awhile (in either direction on our timeline of the big bang). Before throwing himself at young boys in Orinda, OJ grew up in Pittsburg, CA, where he wrestled in backyards while being hella Christian. He started gaming early. OJ received a Super Nintendo for his third birthday. But, since he was a middle child, and a baby, his gift was more of a family appliance. OJ could only recall that the SNES was "his" via home movies. That home movie was eventually taped over for an episode of MTV's The Real World Seattle. What a literal and figurative slap in the face. You don't get much more "middle child" than that.

OJ's brothers, a decade older, dispensed countless L's on Madden and Street Fighter. Single player games were primarily backseat experiences for the younger sibling; the "second controller" was firmly unplugged. The peak of the gaming relationship between OJ and his brothers was often limited to occasional assistance with, or insight to, a boss battle. For instance, while playing Sonic the Hedgehog, after his brothers would beat Dr. Robotnik, they'd hand the controller to the baby future Trasher so he could jump on the canister and free the animals. That was OJ's time to shine.

As OJ's little brother grew up, the vicious cycle continued. Fighting game beatings trickled down the birthing order. Platformers and JRPGs were "endured" in solitude. Video games had a social currency between OJ and his friends. Playing Final Fantasy or Star Ocean was partly required for conversations on the playground, lest be left behind, outcasted by the outcasts. Loitering at a nearby Dance Dance Revolution arcade machine, or entering a DDR freestyle tournament to be so bold, was one of OJ's few experiences with the wider "gaming" world. This tepid yet encompassing familiarity with games, as a culture and a pastime, barely distinguishable as "a hobby," let alone as a passion, was as good a reason as any to go to "video game school" for a degree in "video games".

So that's what OJ did. He attended a private arts/technical college in Arizona. He wanted to be the Spike Lee of video game development. He wasn't. Still, it was an education. He learned how to throw Yoshi's eggs with sniper accuracy in Super Smash Bros Melee, that Tetris on Facebook is a very engrossing way to anxiety-procrastinate your way to a C- grade point average, and that it's exceptionally easy to accumulate debt with a degree you'll probably never use. He returned home with minimal skills, minor contacts, ample ambition but no patience, talent or network to execute his lofty ideas. He eventually worked in games, testing and customer support, through a cocktail of good fortune, desperation, despair, and pragmatism. But, by that time OJ learned his true calling, something that was with him all along.

Like OJ, Jesse was an Orinda transplant from elsewhere in the East Bay. Perhaps that shared outsider status contributed to the initial spark of friendship between the two. Perhaps this is the mark of a generation long gone, but the McGrath household's first console, much like the experience OJ described, was no different than the VCR: it belonged to everyone. However with no brothers to horde the lion's share of the gaming time, it was his mom who dominated game time. Jesse's family would pass that curiously sharp NES controller back and forth between family members trying to see who could go on the longest run in Mike Tyson's Punch-Out!! Jesse's mom had the patterns memorized and the twitch reflexes sharpened to a point. And that wasn't even her best game. Jesse's mom was so good at Arkanoid, a precursor to brick breaker, that nobody dared challenge her. She even had the special controller with a knob on it so she could play with the same dexterity she would on the arcade machines.


This was an era where the only direct competition you could have with someone was scrapping over pole position for the cartridge's high score. However, when Jesse's family eventually got an N64, and when an uncle not much older than Jesse moved in full time, things became more interesting. The uncle, playing the role of pesky older brother perfectly, would regularly hand Jesse beatings at NFL Blitz, Goldeneye, 1080 Snowboarding, and whatever game he decided to bring home from his job at Blockbuster. Previously an only child, Jesse responded to this new found competition at first with resigned spite, before using it as motivation. Mom had long since retired from gaming, but all of a sudden that couch competition had returned. 

Far before online play existed, when the best you could be was the best on your block, Jesse forwent formative gaming experiences such as Ocarina of Time to instead log hours in the Mario Party 2 mini games. No Final Fantasies were had in the McGrath house because Jesse was too busy learning all of the shortcuts in Mario Kart so that when the neighbor kids came over, they knew exactly whose house they were in. Ten years later, playing Wii bowling in a dorm room at San Francisco State, Jesse was making friends (and enemies) in the exact same fashion.

MMOpen Mics
Strangely enough though, video games were not Jesse and OJ's initial shared interest. And as much as their friendship would eventually manifest in an explosion on the sidelines of the football field, neither of them was particularly interested in that either. Instead, it was comedy that brought these two giggling boys together. Both of them crammed into desks (Jesse too wide, OJ too long) in study hall huddled around an MP3 player with a 4 inch screen, watching the now cult classic Stella video shorts on repeat, both of them stifling their piercing laughter and dodging glares from the teacher supervising the room at the time. Or, the juvenile tomfoolery would reflect on the cathode ray monitors of the school computers—clearly their unintended use. Those Stella clips turned into late night deep dives on Limewire downloading specific jokes off of comedy albums, and watching the assorted seasons of Chappelle Show and Reno 911! that Jesse and OJ had managed to acquire on DVD. Video games were great, and they did that too, but comedy always came first.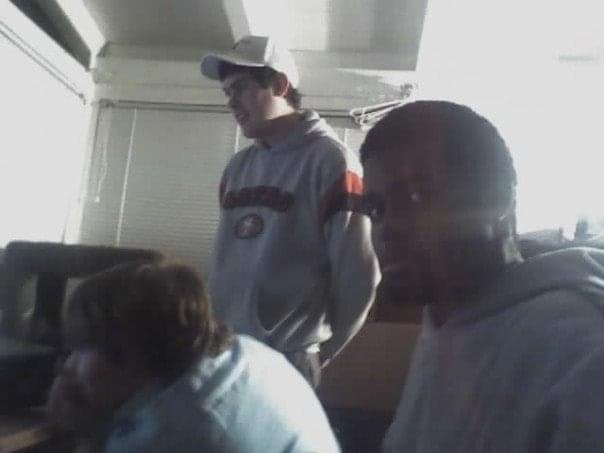 Jesse, Mike the Bike and OJ Interneting

For OJ, with Sifl and Olly clips burned to CD-Rs and a 760 mile roundtrip visit to Los Angeles from Arizona to see a Tosh.0 taping on his comedy fan bonafides, doing stand-up comedy was everything. First and foremost, he got to watch comedy, a lot of it. The other comedians were young, fast, brilliant and exciting. He then got to perform comedy, a lot of it. Open mic venues in San Francisco were grimey, loose and liberating. There was immediate positive feedback and eventual praise from peers. Distilling thoughts, ideas, stories and opinions into an eclectic pantomime was OJ's truest form. After the shows he'd collect his favorite moments into a Tumblr, a love letter to an exquisite tryst. More positive feedback, more praise from peers. And, as if preordained, OJ helped usher Jesse into the San Francisco comedy sphere, an open mic in the SOMA.

Jesse loved standup, but he only knew the version of it that appeared on Comedy Central: bright lights, a full and engaged audience, a microphone not held together by duct tape, things like that. At The Stud, where OJ took Jesse to his first open mic, things were not quite what Jesse expected. Being dark, erotic and on the route for the Folsom Street Fair made The Stud the quintessential gay dive bar. The first night he went up, Jesse was shocked at how well it went. The second night he did it, he fully bombed. The same material at the same venue fell completely flat. First comedy lesson learned: nothing is guaranteed. From there, at not quite the same frequency (or with quite as much passion), Jesse hit the same mic grind that OJ did. It was a lot of things, good and bad, but more than anything it was exciting. The shine would eventually wear off, but the thrill of being a part of a community willing to wait for hours just to do five minutes of jokes at the city's most prestigious Cafe/Bar/Laundry Mat/Open Mic was intoxicating.

The Plan
It was something along the lines of, "I just want to do a comedy show where we play video games and drink." That was the second big bang. There can be more than one big bang. Don't worry about it.

In the apocryphal, probable-yet-inconclusive ether that allows Jesse and OJ to "recall" their early 20s—memories have gone hazy as a juicy IPA—the following parameters are inferred. Who said that quote? Jesse. The time? Early 2014. The place? The Folsom Street Foundry. Also present: OJ. Cover charge: $5.

The Folsom Street Foundry SF Game Night was what one would call "very quite lit." Every Tuesday the cavernous, ultra hip place was flooded with screens, the glow of TVs and projectors; those lights were then filtered and scattered by nerds. Teams of friends shuffled from station to station, interest to interest. Strangers would engage in friendly, impromptu challenges.

Every corner and nook catered to a different creed. Board games, indie games, retro games, serious tournaments, video game themed drinks, beer pong, a display with real time social media posts throughout the night. A Twitch channel streamed the evening's ongoing Super Smash Bros tournament. The broadcast was nearly unintelligible with scene lore, local celebrities and high level play.

Foundry was cool. But the five dollar cover, expensive cocktails and an abundance of 50 dollar haircuts felt way more "New" San Francisco, appealing to techie young professionals, than Jesse and OJ were comfortable with.

The two were individually at an impasse. OJ was struggling to balance work, creativity, health and family—adulting if you will. Jesse loved doing standup, but had realized by this point that he did not have the drive (nor, in his mind, the talent) to commit to the grind required to "make it."

But Jesse had been at enough variety and sketch shows throughout his time in the comedy scene to know that standup didn't have to be the only way to be creative and generate excitement. If you love what you do, people will grab onto that feeling, even if it is less about what is actually happening and more about getting a contact high from the Serotonin swirling about the room. Sketch and improv still felt like a grind; but what if they did something entirely new, but entirely familiar? Could they make a show that feels like a house party? By a quick process of elimination, the initial rough sketch of Super Trashed Bros began to form.

Surrounded by their fellow patrons, geeks and drinks, the palpable throng of excitement, with their combined talent, tenacity and knowledge of all the facets the project could touch, there was no way that whatever they endeavored on wouldn't be a big success.

Several Months Later…
Two drinks slid across the bar. It's was still daylight out. Jesse and OJ thank the bartender and waited for the owner.

At least they had a name. Super Trashed Bros. It was almost "Super Thrash Bros," to rhyme a little better with Super Smash Bros. But "Thrash" didn't make sense. There was a brief, cringeworthy push towards "Super Laugh Bros." Which, no. God, no. While neither Jesse or OJ were big partiers, "trashed" sounded closer to what was actually going on.

Everything else was a relative disaster. Ambition is one thing. Doing the most was another. Naivety is often a well-intentioned delusion. Every idea became two problems, every solution revealed unwanted dynamics. A show as simple as "play video games and drink" was easily the most complex production either "Trashed Bro" could imagine.

To start, a venue had to be public or semi-public, allow alcohol, have a big ass television or a projector, have an accessible router connection, enough space for up to twenty people, vetted and booked guests, an audience, preferably an amp/microphone and an open evening time slot in one of the world's most naturally rich and competitive regions for live performances.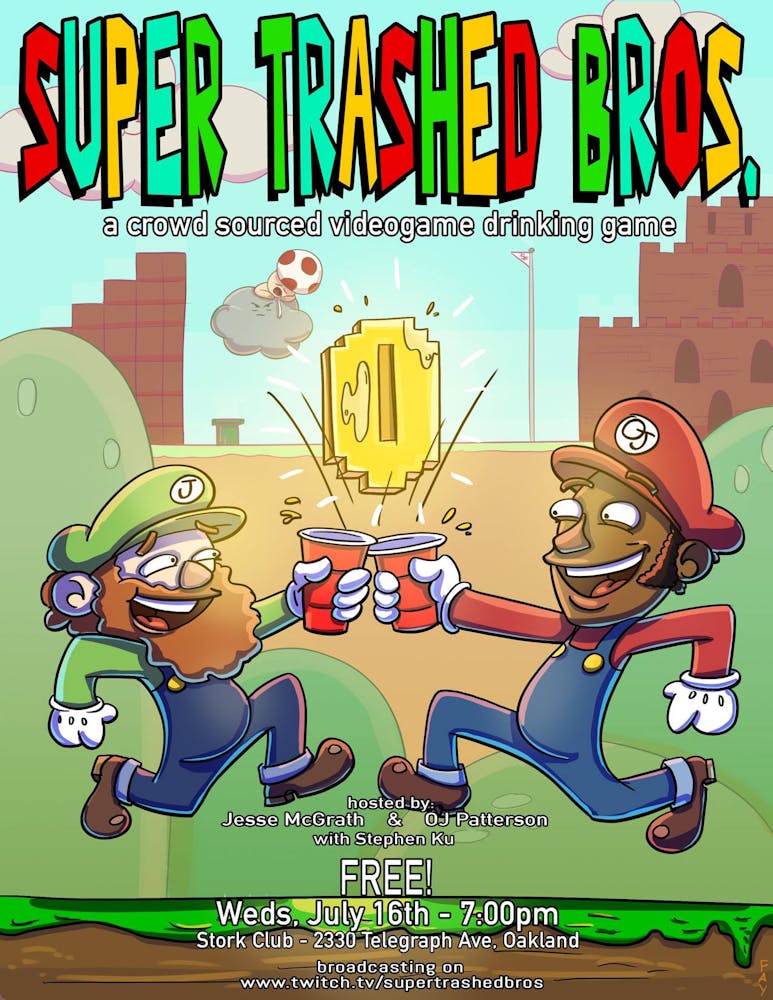 Illustrated by Adam Fay

The venue also had to get the show; the owner/manager had to believe in the idea and anticipate some growing pains. And, especially considering that Jesse and OJ had never hosted a video game night, never operated a Twitch stream, didn't own a streaming computer, lived on opposite sides of the Bay Bridge from each other and had other priorities, there were nothing but growing pains.

Anything that could go wrong did. Even at a show's high there was ample room for improvement. Enthusiasm and excitement couldn't sustain itself for long after an unforeseen complication put the hosts in a tailspin, grounding the show to a halt.

In the chaos, the stream computer often looked sad and forgotten in the corner. Any viewers taking a chance on such a convoluted and disassociated broadcast were probably confused by the confusion.

In essence, Super Trashed Bros was looking for a home. But, more importantly, the hosts/producers were looking for an identity. So far, between a debut at the Stork Club, a notorious stream at SylvanHouse, and a forthcoming engagement at the Museum of Art and Digital Entertainment, Jesse and OJ had exhausted nearly every contact and favor at their disposal. They were unsure, they were overwhelmed, and yet they were undeterred. They were waiting for the owner of the bar.

Did they want a well produced live event or a curated live stream? Or both? Should the comedians they book commentate or compete? Is a comedian being a fan of a game reason enough to host a show around that particular title? Doesn't everybody play video games? Do we interview the comedian while they play? Is that fun? Should we open up the experience for the audience to play? If so, how do you create entertainment and intrigue without becoming just another "game night"? If not, how can a show be more engaging than "people watching slightly more notorious, slightly more 'entertaining' people play video games"? What's the most satisfying experience for everyone involved? How many handicaps and silliness should there be? Is the event a variety show or a competition? What games should we play? Old ones, new ones, bad ones, weird ones? What are the rules?

Two sips and that wandering eye you get a bar, looking nowhere in particular.

Soda Popinski's, near the intersection of Polk and California in San Francisco, looked promising at first sight. A shotgun bar rife with Russian regalia, direct and indirect references to the venue's bald, guzzling namesake of Mike Tyson Punch Out!! fame. A big ass television, connected to a Nintendo Entertainment System and a Nintendo 64, was mounted high at the back of the room. The space between the bar and television was ample enough to set up and play. No dedicated amp or microphone, tho. But there was space for it if Jesse and OJ could find the equipment.

Classics like Super Mario Bros, Kung Fu, and Mario Kart 64 sat precariously stacked between the television and the bar's ATM. Patrons were encouraged to play at their leisure. If you could beat Mike Tyson, you won a free bottle of champagne. No Super Smash Bros in the stacks, tho. That game was behind the bar, along with the controllers; you needed to leave your ID with the bartender as collateral to check them out. A black, white, and red miniature carnival wheel stationed near the bar, adorn with winnables like "BEAR FIGHT" and "MULE KICK", displayed, "$11 PLUS TIP | TIP NOT INCLUDED BUT APPRECIATED". It must have sucked to pay $11+ to win "PBR 💀" but respect to the gamesmanship.

The meeting went well. It was a quick blur of mutual interest. Jesse and OJ still needed to do a tech test. And set a date. And promote. And produce. And host. They also had a "spooky" stream to coordinate, a "romantic couples" multiplayer-team stream to confirm. Thankfully they would have the help of others, many who can't be named due to burned bridges and nondisclosure agreements. But nonetheless, their efforts to define what was was, was appreciated. And hey! There was a new Super Smash Bros game coming out that year; Jesse and OJ could lean into the general excitement. People would be very down for a tournament. It doesn't have to be too complicated.

And, regardless of the results, there was sincere joy collaborating with somebody you trust, someone with shared history, someone whom vibrates at a deep, good-natured, complimentary frequency. It was all good. Every action inched closer to a clearer vision. Even if their rapturous ritual had mutated into a monster effort, and their efforts had moved from the sidelines to center stage, balance was the goal. Jesse and OJ still made their own playbook, their own rules. Now it was time to remake them.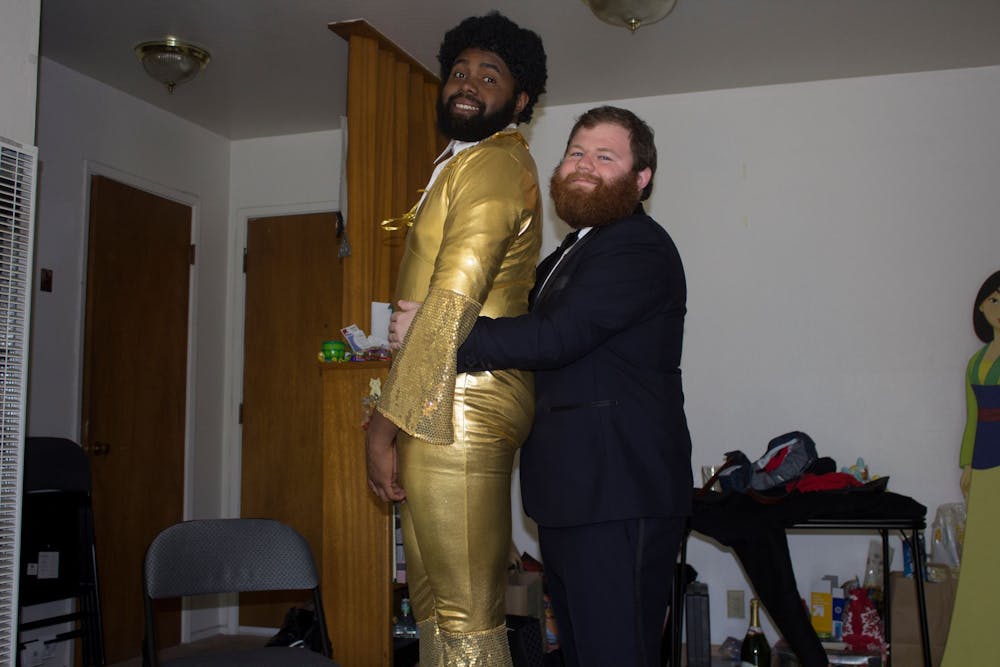 Cheers!